'Bootlace' Walking Holidays
- Guided walks in the Alpujarra region, Sierra Nevada mountains in Andalucia, Southern Spain, and in the deserts and mountains of Morocco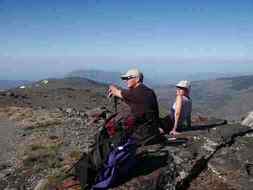 ✩ Explore la Alpujarra, Sierra Nevada.
✩ Spectacular mountain walks
✩ Follow the ancient trade routes of the Moors
✩ Great company, great vegetarian food, and the great outdoors!
✩ Established 1995... and still in love with the mountains
Friendly small groups on walks led by experienced guides through stunning scenery; all-inclusive and bespoke holidays in the Alpujarra, Sierra Nevada National Park in Southern Spain and trekking Morocco's mountains and Atlantic coast.
Bootlace is a seasonal family business established in 1995 with mountain experience from Wales to the Himalaya and from the Atlas and Anti Atlas to our beloved Sierra Nevada. Originally from the UK, we have lived here since the 1980s. With our intimate local knowlege we offer refreshing and renewing holidays in small, friendly groups - an ideal way to get to know this region, on the southern slopes of the impressive Sierra Nevada mountain range. For our Moroccan holidays we also use experienced local Moroccan guides.
Most of our holidays are fully-inclusive, and we cater well for any dietary needs or preferences (please let us know what you need!)
What makes Bootlace special: - "the flexibility and the relaxed, informal atmosphere of the small groups combined with deep local knowledge" - "Spectacular scenery, astounding walks" - "a familiarity with the less frequented footpaths and the best views, the most idyllic picnic spots" - "It's like being with friends or the very best kind of relatives" - "The food is too good"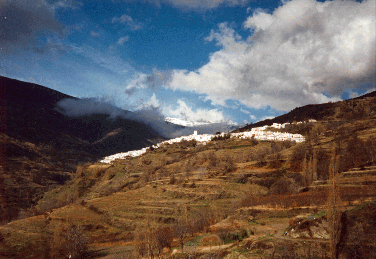 A refreshing and renewing experience, walking with us in a journey back through time and into the heart of nature. The Sierra Nevada mountains and foothills of the Alpujarra region of Andalucia, south Spain, are steeped in history and gifted with a rare geography - from sub-tropical through to alpine - the area was recognised by UNESCO as a Biosphere Reserve in 1986 and is one of Spain's most loved and visited National Parks.
Our walks follow many of the old Moorish and Roman trade routes and acequias (arab irrigation channels) which criss-cross the rugged landscape and lead us from fertile terraces surrounding the whitewashed Berber style villages to soaring mountainsides and secret hidden valleys. You will see places, rare plants and animals that the casual tourist never finds and glimpse a life which has changed little over the last few hundred years. Most of the walks are circular and we use our Landrover to gain access to the more remote locations. Each week is carefully planned to suit weather conditions and the needs of the group members, with five walking days and one rest day. We also provide bespoke walking holidays tailor-made to suit you: our made-to-measure breaks start at 360 euros per person for 4 nights
➩ More on the Alpujarra, from Wikipedia
---
Our portfolio of guided walks:
The list below includes our scheduled 2013 season, plus a number of other possibilities available for 'tailor-made' bookings.